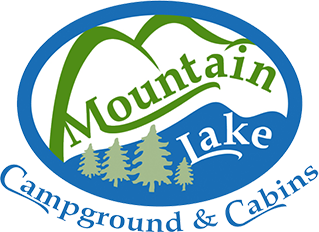 During your visit to Mountain Lake Campground, our map will help you navigate our park safely and easily. And for everyone's safety and enjoyment, please read and respect our policies for visiting campers. Thanks, and enjoy your stay!
Click an Area to Enlarge
Mountain Lake Map Section
Camping Rules
The speed limit is 5 MPH in the campground and is strictly enforced.
We reserve the right to control all vehicles driving in the campground.
We allow only two vehicles per RV or tent site, and only one vehicle per site in the Area #4 campground.
NO ATV's or Go-Carts are allowed to be driven in the campground.
No bike riding after dusk or before dawn. Helmets are required in the campground for any child under the age of 14.
No fireworks permitted on the property.
Alcohol may be consumed responsibly at your site only – please be considerate of your neighbors
Profanity, drunkenness, disorderly conduct, or drug use will not be tolerated. You will be asked to leave without refund.
No defacing or cutting trees.
NO parking on vacant sites.
Pool parking is located across street from store.
NO dumping of grey or black water on site (must use dump station or honey wagon).
Golf Cart and wristband rules and policies can be found at office.
Pool & Beach Rules
All swimming is at your own risk. NO lifeguards. NO diving or flipping into pool.
Pool is for overnight campers only. Proper attire must be worn at all swimming areas.
Children under the age of 14 must be accompanied by parent at swimming area.
Wristband Policies
All paying campers will be required to wear wristbands to access campground amenities.
Paying campers will receive wristbands for only the amount of people paid for on their site ($5.00 replacement fee).
Reservations
To guarantee a reservation, we require the 1st-night's stay as a deposit payable by all major credit/debit cards. This deposit is non-refundable.
A $100 deposit is required on any Campsite reservation made for 30 days or more.
Reservations not checked-in by noon the day after your scheduled arrival date will be released without refund.
Holidays require a 3-night minimum stay for Memorial/Labor Day (Friday-Monday). July 4th is also a 3-night minimum (call for dates).
Peak season weekends require a 2-night minimum stay. No Saturday check-ins or check-outs.
The first person checking in is responsible for full payment. For your convenience, we offer an ATM.
We reserve the right to refuse any business.
We do not accept checks.
Mountain Lake Campground is not responsible for any lost or stolen items.
Cancellation Policy
Mountain Lake does not refund payments. If you call to cancel 14 days prior to your arrival date, your deposit taken at time of reservation (minus a $10 processing fee) will be kept on file under your name/phone number and can be applied to future camping, tows, or honey wagon service, to be used within the current year (not eligible for store purchases). If you cancel with fewer than 14 days' notice, then you will lose your whole deposit. No refunds for early departures for any reason. We do not give refunds for illness, work schedule changes, family emergencies, inclement weather, acts of nature, or other events beyond the campground's control.
Sorry, we do not give refunds for illness, work schedule changes, family emergencies, inclement weather, acts of nature, or other events beyond the campground's control.
Campsite Info
Check-in is at 2:00 PM and after. Check-out is any time before noon.
You must be 18 or older to make a reservation.
Campsite rates are for 2 people. Additional people 7 years and older are $5.00 per person per night with a limit of 6 people per site.
All campers must wear wrist-bands to access campground amenities.
You can tie your boat up at your site ONLY if you have a reservation on sites 447, 448, 450, 452, 454, 456, 458, 460, 462, 464, 466, and 468. All other sites can tie up at our beach located in Area 2.
Group Camping
Group sites are for 7 or more people. These sites can be rented with fewer people but pricing will remain the same.
Additional people age 7 and older: $8 per person per night.
The names of all campers must be provided at the time of reservation.
The first person checking in is responsible for paying the balance of the reservation.
Rental Units
Upon check-in, you will need a $100.00 security deposit. Upon checkout, if Customer Checkout list duties are completed and there are NO damages, you will be refunded your deposit within 30 days. If duties are not completed or there are any damages or breaking of rules that has occurred, NO refund will be issued.
NO SMOKING allowed in any rental unit.
No tents are allowed outside rental units or on rental unit sites.
NO pets allowed in or outside any rental units, except for Cozy Cabins 1 & 2.
Pet Policies
Due to insurance regulations, we are not permitted to welcome Dobermans, Pit Bulls, Rottweilers, & Chows (or breeds mixed with these) to our campground. However, there is a kennel in town where they can stay for your vacation.
Please do not leave your pet unattended… keep your pet on a leash and clean up after them. You must have an up-to-date rabies shot record.
NO loud barking or unruly behavior from pets will be tolerated.
No pets are allowed in or outside our Lakeside Cabins and Yurts. Only Cozy Cabins 1 & 2 are pet-friendly. There is a $10 per pet, per night charge (2 pets max).
Visitors & Guests
Mountain Lake welcomes visitors, but you must name them on your visitor's list at the time of your check-in or they will not be allowed.
Visitors must stop at our office to be verified and receive their car pass before being allowed to your site.
Visitors are not allowed to bring pets.
You are responsible for the conduct of your visitors and will be held accountable for any damages or disruptions caused by them.
Visitors are considered visitors to your campsite only… if they wish to use the amenities or participate in any activities, they will need to pay the overnight fee.
Visiting hours are over at 9:30 PM. If your visitors plan to stay overnight, they must come to the office and pay an overnight visitor's fee and acquire an overnight car pass. Your party plus your visitors must not exceed the site limitation of 6 people.
Express Check-In
Periodically throughout the camping season, we may be offering Express Check-In. If we are offering it for the time you are camping with us, simply tell the reservations teammate that you want Express Check-In. This allows you to bypass the lines in our office by driving through our "Express Check-In" area where you will receive your check-in packet which includes your car tags and your invoice.
Express Check-In requires you to call ahead to: (1) Pay all camping fees in full, (2) Tell us the number in your party (3) Tell us your vehicle make(s) and model(s), tag number, and state, and (4) provide the necessary information for bringing a pet including filling out all forms and providing necessary information.