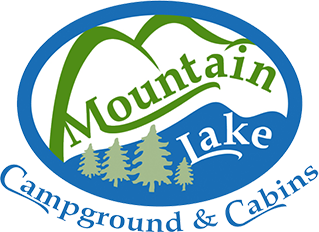 Read through some of our most frequently asked questions so you can come to Mountain Lake Campground fully prepared and ready for fun. If you don't see an answer here to a question you may have, please call our office, and we'll be happy to provide you with any additional information.
FAQs About the Campground
Do you have full hookup sites?
All of our sites (except for some sites in Area 3 that are primitive) have water and electric hookups. We also have dumping stations, or for a fee you can schedule our Honey Wagon service. At this time, we do not offer full hook-up sites.
Do you allow pets?
We are a pet-friendly campground! However, if you staying in one of our rental units, please note that only Cozy Cabins 1 and 2 are pet-friendly. Also, due to insurance regulations, we are not permitted to welcome Dobermans, Pit Bulls, Rottweilers, & Chows (or breeds mixed with these) to our campground. However, there is a kennel in town where they can stay for your vacation.
Do you have washers and dryers?
Yes; they are coin-operated and are located in the Area #1, #2, and #4 bathhouses.
Do you have fire pits and picnic tables?
Of course– you can't truly camping without them! Fire pits and picnic tables are located at each of our campsites, yurts, and cabins.
Do you sell firewood and ice?
We sure do! You can purchase those at our Country Store. You will also find a snack bar, groceries, pizza, ice cream, camping supplies, fishing bait, ATM, souvenirs, and much more. The DNR and Mountain Lake greatly discourages bringing your own wood because of the wood-boring bug infestation.
Do you have any hiking/biking trails around your campground?
Longpoint, one of the most popular trails around, is located just past our Country Store and has a great view. There are several other trails to choose from as well!
Do you have sites to accommodate large groups?
Yes, we have group sites in Area #1, 2 and 3 that you can reserve.
FAQs About Summersville Lake
Do I need a fishing license to fish in the lake?
Yes you do, and you can purchase them online at www.wvdnr.gov, or buy one at the local WalMart. There is a one day non-resident license available for $3.00.
Where can I launch my boat?
There are three places close by: (1) The Marina, which is located just around the cove from us; (2) Salmon Run, which is located just as you turn off Rte 19 onto our road (this is also the winter launch); and (3) Battle Run, which is about 5 miles from us.
Where can I rent boats?
The Marina, which is located just around the cove from us, offers boat and kayak rentals for your use. You can call them at 304-872-1331.
When does the lake fill up and lower?
Generally, the lake is full by Memorial Day. The Corp starts letting the water out around the 2nd or 3rd week in September until it reaches winter pool. Sometimes the water drops at a fairly fast rate, so we advise you to keep this in mind during booking. Use caution and keep an eye on your boat (especially when docking), or if you tie up to the shoreline on our beach area.
Are we allowed to jump from the cliffs around the lake?
The Corp does not allow jumping from any higher than 6 feet. You will be fined a substantial amount for jumping from greater heights.
What is there to do on a rainy day?
If you feel like stepping outside the campground for a spell, there are three nice malls located within 100 miles of us in Charleston, Beckley, and Clarksburg. You can also bring your friends to the Nicholas Showplace movie theater or the Pinhead Bowling Alley, located right in Summersville and Oakhill respectively.
Are there any places to raft nearby?
Yes, there are numerous rafting companies just about 15 minutes south on Rte 19 in Fayetteville, as well as the popular New River Gorge Bridge.
FAQs About Booking
What if I have to cancel my reservation?
If you call to cancel 14 days prior to your arrival date, your deposit taken at time of reservation (minus a $10 processing fee) will be kept on file under your name/phone number and can be applied to future camping, tows, or honey wagon service, to be used within the current year (not eligible for store purchases). If you cancel with fewer than 14 days' notice, then you will lose your whole deposit. Mountain Lake does not refund payments, including for early departures for any reason. We do not give refunds for illness, work schedule changes, family emergencies, inclement weather, acts of nature, or other events beyond the campground's control.
Can I bring my own golf cart?
Yes you can– we just need proof of $100,000 insurance and ownership of it. We also rent golf carts at the campground. All golf cart operators must abide by our golf cart rules, regardless of whether or not they own the vehicle or are renting it from Mountain Lake Campground.
Is the pool included in the price of camping and what are the hours?
The pool is included in the price of camping. The pool hours vary by time of year; please check in the store for posted hours. You can call our office to check pool availability.
When do you begin taking reservations?
We begin taking reservations for the following camping season on Labor Day Weekend.
Am I allowed to have visitors?
Yes, you are allowed to have visitors at your campsite, free of charge! However, your visitors are prohibited from using the facilities and amenities at Mountain Lake and are not allowed to participate in activities put on by the campground.
Do you have boat or camper storage?
Yes, we offer year-round storage for your units. Payment is determined by the size of your unit and is due quarterly. If you pay for the full year, you'll get a month free!
Do your cabins have Jacuzzis?
No they do not, but we are the only campground that has cabins located right on the lake!